Getting the right temperature scale for recipes can sometimes be quite tricky due to the different oven types. I usually include all the different temperatures for different ovens in my posts but there are times that I may just use gas mark as that is what my gas oven uses. I have posted this chart to help you find the right temperature for your baking.
Gas Mark
Gas mark is the temperature scale used on gas ovens and is more common in the UK and Ireland so many recipes from UK websites or blogs may use it.
Fahrenheit
Fahrenheit is the temperature scale commonly used for fan assisted electric ovens in the USA and Canada. Theses ovens are also known as convection ovens.
Celsius (°C)
Celsius is the temperature scale that is used for electric ovens. Electric ovens that use Celsius are also very common in the UK and US.
Fan
Fan assisted ovens are electric ovens that also use Celsius. These ovens have help from a fan at the back of the oven so they are more powerful than standard electric ovens. This Is why the temperature scale is lower than on a standard electric oven.
Below is an table with oven temperature conversions for gas and electric ovens.
Oven Temperature Conversions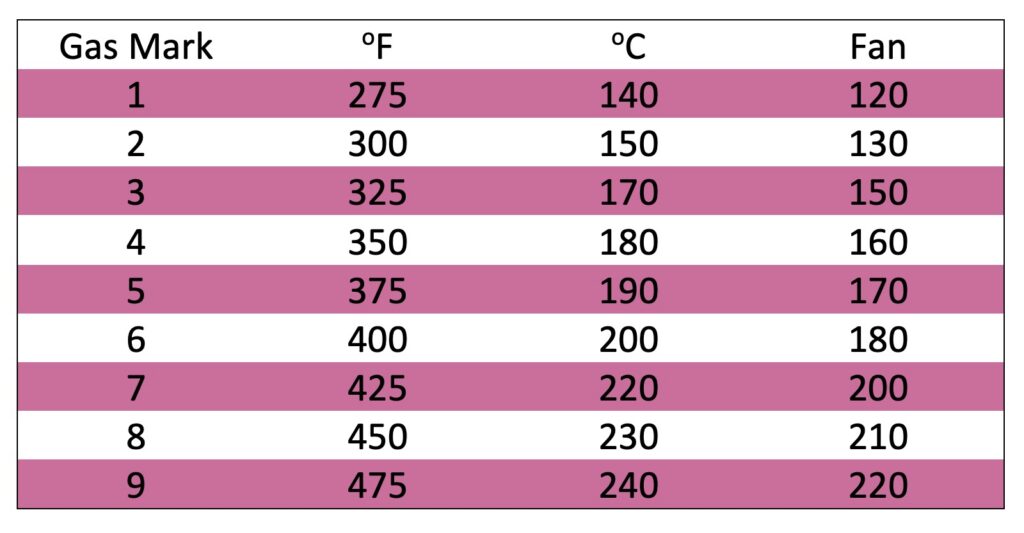 Related Posts